Partnership with Parents
Parents are the most important people in their children's early lives. Children learn about the world and their place in it through their conversations, play activities, and routines with parents and families. By working together parents and practitioners can enhance children's learning and development.
Research shows that parental involvement and inclusion can help childcare professionals to establish a more authentic relationship with the children in their care  As, by having more contact with parents, early years professionals learn more about children's needs and home environment, this information can be applied toward better meeting these needs.
"Ensuring inclusive decision making requires consultation that promotes participation and seeks out, listens to and acts upon the views and opinions of children, parents and staff, and other stakeholders, as appropriate … " Síolta, Standard 4: Consultation
Article 42 of the Constitution of Ireland states that; The State acknowledges that the primary and natural educator of the child is the Family and guarantees to respect the inalienable right and duty of parents to provide, according to their means, for the religious and moral, intellectual, physical and social education of their children.
Partnership with parents is linked to the following Standards and Components of Síolta, the National Quality Framework for Early Childhood Education NCCA 2006:
Standard 3: Parents and families – Components; 3.1-3.4
Standard 4: Consultation – Components 4.1-4.2
Aistear the National Curriculum Framework NCCA 2009 ; Guidelines for Good Practice provides a guideline focusing in different aspects of pedagogy  which describes how the adult can support children's learning and development across four themes, one of these themes is  Building partnership with parents
Below are some links to guides which you can download by clicking on the picture.
---
Building Partnerships with Parents and Practioners

The link below is from the Aistear Siolta Practice Guide the  purpose of the Practice Guide is to support practitioners in using Aistear: the Early Childhood Curriculum Framework (2009a) and Síolta, The National Quality Framework for Early Childhood Education (2006) together to develop the quality of their curriculum and in doing so, to better support children's learning and development.
This pillar, Building Partnerships with Parents has a range of resources to help you build stronger partnerships with parents in your setting
Siolta; Research Digest Standard 3 Parents and Families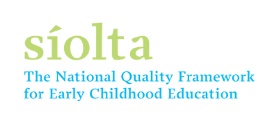 Síolta is the national Quality Framework   designed to support the development of quality in practice in a wide range of early childhood care and education settings (ECCE) for children aged birth to six years.  It has achieved a high degree of content validity through a rigorous and extensive programme of consultation with all stakeholders in the ECCE sector in Ireland as well as extensive research.
One part of this research is The Síolta Research Digests which gives samples of research which can be used to support and extend understanding of the sixteen standards within the framework. Each of the standards have a corresponding Research Digest  which  link each Standard to the overall theme of quality in early childhood care and education (ECCE) and offer practical suggestions about how that research evidence can be used to promote and develop quality in everyday practice.
Parental Involvement- A Handbook for Childcare Providers
This short, easy to follow handbook published by Barnardos explores strategies which can be used to support childcare providers in involving parents in their child's learning and social development.